Questions to Ask About Rowing Camps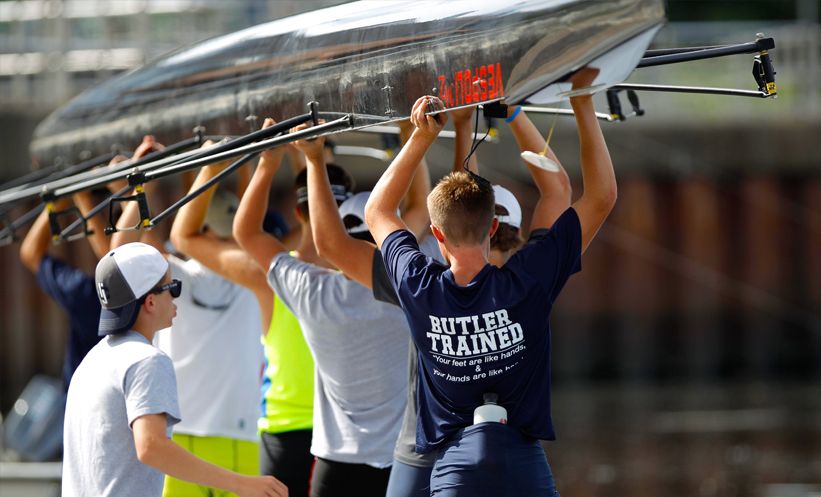 Of course this will be biased given we run the largest network of junior rowing camps in the world, but that means we think about these things more often than most folks.
Choosing a rowing camp can be a challenging process, especially for families new to the sport. You need to think about the length, location, cost, what the camp offers, your goals, etc. The camp's website usually offers a lot of basic information, but this may not be enough to determine which camp to attend. While many articles on this blog explain camp types and what to expect, this article focuses on questions to ask camps (and answers to look for) to help you decide which to choose.
What is the coach to camper ratio?
In general, the lower the better. A ratio of 1:8 (coach to rower) is one of the best you can find for larger multi-day camps. Smaller, local camps can have better ratios, but these are usually not as involved as overnight camps. It is important to remember that the higher the ratio, the less time coaches have to spend on each individual rower. This is less significant for longer camps, where coaches have weeks to work with all the athletes, but it is still worth considering. Also, if the camp is focused on preparing for a regatta, there is the risk coaches will focus on the top boats instead of everyone - though this comes with the territory in general.
What are the camp's goals and/or philosophies?
This is a great way to differentiate camps and discover which one is right for you. Some camps are geared towards racing and going to major regattas like Club Nationals and Canadian Henley. Others are simple learn to row or technical camps. Many five day camps, like the ones put on by the company that sponsors this blog, are designed to inspire and educate the athletes while also improving skills. Regardless of what you want to get out of a rowing camp, make sure your goals align with the camp's.
Who are the coaches?
Whether the camp is for five days or five weeks, you will be working with these coaches several time a day, so it's nice to know who they will be. Are they former Olympians or high school rowers/coxswains gathering volunteer hours? Sometimes camps won't have specific coaches locked down until close to when the camp starts (this is especially true for higher level coaches who have a lot going on and occasionally need a break). If this is the case, ask the camp who has coached there in the past and what caliber of coaches they employ.
Will this be a good camp for me (based on my experience)?
Not every camp is appropriate for every rower or coxswain. Some are designed for beginners while others are for only advanced athletes. If you're unsure if a camp is the right level, give them a call and explain your experience with and feelings about the sport. While all camps want to fill spaces, they more so want them to be filled with the right type of athletes. Camps don't want advanced rowers in a novice camp (where they'll be bored to tears and/or annoyed) and really don't want novices in an advanced training program (where they'll be overwhelmed and possibly a safety hazard). Most camps accept a range of abilities, but if it's unclear, check in with them to ensure you're at the right level.
In what ways do you maintain the safety of rowers and coxswains?
Safety should always be a top priority and I cannot think of a camp that does not understand this. However, it's still a good idea to see what precautions camps take, especially if you're a parent and nervous about sending your child to an overnight camp. Researching safety precautions includes looking at coach to athlete ratios, supervision of athletes when they're not rowing, camp staff and their training, and how athletes are housed. Most camps do a lot to ensure the safety and well-being of their athletes, but if you are nervous, it's important to ask these questions to quell your concerns.
Can I speak to any former participants or their parents?
If you want someone's opinion other than the camp's staff, ask to talk to alum or their parents. This is more applicable for longer camps (at least a few weeks) because the athletes have a lot more time to form an opinion of the camp. While you will probably be sent to someone with lots of good things to say about the camp, it can still be helpful to get an outside opinion. Plus, you may have questions you feel more comfortable asking a participant or parent than the camp's organizers.
What type of boats will you be using?
This will often be listed in the camp's details section. However, it is good to check in case you are looking for something specific like rowing in a single vs. an eight.
How large is the camp?
Are you looking for a big camp where you can meet lots of other athletes from different programs? Or do you want a smaller camp where you can get to know everyone? Camps come in all sorts of shapes and sizes and if you have a strong preference, find out the camp's size and determine if it's right for you.
Why does the camp cost this much?
This is more than asking about the costs of food, lodging, coaching, etc, it's about what you're getting beyond the basics. Are there one on one meetings with coaches? Do they have special activities? Do the participants enjoy three course catered dinners? This is especially good to ask when looking at more expensive camps. You're usually getting something more for the extra price and it's important to know what that is.
While there are lots of important questions to ask, there are a few you should avoid asking:
How much does your camp cost? Do you offer meals? Where is the camp?
Avoid asking about anything covered on the website. This is common courtesy and saves everyone time in the long run. That said, if you're not sure about something, ask away. It's better to not make assumptions.
On exactly what day will your camp fill?
Many popular camps fill up each year, sometimes well before they begin; this is especially true for coxswain spots. However, it's impossible to know exactly when this will happen. Instead of asking for a hard deadline or to have a spot held for you (which generally is not allowed), ask how many spots are still available and when the camp usually fills. This latter question will not have a definite answer as every year is different, but it can help give you an idea of when you need to decide.
If I'm on the waitlist, will calling and emailing every day get me off it faster?
No. It will, however, aggravate the camp organizer you are calling. The best thing to do is find out where you are on the waitlist and what the camp's policy is in regards to moving athletes off it. If you are flexible and can attend the camp last minute, this may help your odds of getting in from a last minute cancellation. That said, your best bet is to look at other camps or pray to the waitlist gods.
Will my child get recruited by going to your camp?
Short answer: probably not. Check out our article on Common Misconceptions About Rowing Camps.
How is your camp better than this other camp?
This is not a good question because it puts the responder in an awkward position. The rowing community is small and people don't want to speak poorly of other camps. Moreover, they may not know much about other camps as they are focused on their own. It's best to ask what's good about their camp only and then compare that to others you contact. This requires a bit more work, but will give you a better picture of all the camps you are considering.
How much will my 2k drop by going to this camp?
There is no answer for this. Every person is different and there are many variables controlling what someone can gain throughout the course of a camp. It's really hard to lower your 2k during a five day camp because they are too short. Longer camps are better suited for this, but it is no guarantee. This leads back to asking what the goals and/or philosophies are for the camp. If there isn't the promise of a 2k drop (and there never should be), what can be gained in addition or instead?
On a personal note, I once worked with a boy who did a five week intensive training program and left without a new PR. He did, however, learn a lot more about himself, his passion for the sport, and what it takes to compete in collegiate rowing. Having walked away with so much more, he returned home content and more confident (and was able to get his PR a few weeks after returning home).