Recruiting 2K Erg Scores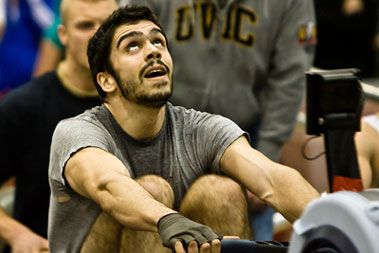 Whenever we give a presentation to rowing teams about the recruiting process, someone generally raises their hand and asks what are the Women's or Men's "Division I 2K erg times" or similar. The question indicates a disconnect in understanding the use of 2K scores in the college recruiting process and is definitely worth exploring because there is a lot of complexity when it comes to recruiting, ergs, and 2K times that most recruits aren't aware of.
First, it's important to point out that recruitable 2Ks aren't so easily broken down into divisions and standardized. There are some Division III teams (yes, they recruit too) that may consistently beat some smaller Division I programs. A sense of parity in regards to recruiting standards by division is an illusion given the diversity of programs out there and their resources. Moreover, some coaches weigh the erg and/or height and weight differently than others – regardless of level of program performance or conference, much less division.
Second, the question indicates a lack of recognition in terms of the aggressively evolving nature of US collegiate rowing. 2K recruiting scores are generally moving targets for many college rowing programs – even the fastest. Rowing teams in a developmental stage are constantly trying to pull a faster erg average than their last recruiting class – and given the increasing size of the community both in the US and abroad, this is something they're able to do. The fastest college programs are recruiting 2Ks that decrease as well merely given advances in the sport – combined with increasingly global recruiting reach. You might say the moving recruiting average for 2Ks for the top (fastest) teams changes markedly about every 4-5 years.
We have watched top performing Division I men's programs 2K recruiting guidelines go from "6:30 or better" to "6:25 or better" to very top recruits commonly being 6:15 or better over the last 7-10 years. It is not that the sub 6:15 recruit wasn't around 10 years ago, but they also weren't as plentiful. On the women's side you could potentially add a minute and use the same numbers. The change has potentially been more dramatic on the women's side recently because beyond the increasing availability of faster recruits, the number of serious college programs has increased, thus increasing the level of recruiting infrastructure as new players with big start-up money for scholarships and resources move into the "market."
We don't want the above numbers to alarm you; they're only for the top performing open weight programs in the country. The middle 50% of 2Ks for the middle 50% of schools are slower. Additionally, many coaches despise using erg score as a primary selection device given, as we all know, "ergs don't float." As such, to clear up another misconception, recruiting coaches only use rower's 2Ks to get the athlete started in their recruiting process. Just as you can't go to college on your SAT score alone, neither can you be recruited only on an erg score – there are many other factors (from racing experience to character) recruits will be evaluated on afterthey pull a "perfect 2K for college recruiting." (whatever that is) This allows coaches to consider factors outside of the erg and personalize their recruiting in accordance with their philosophy on the sport and coaching pedagogy. Bear in mind you may have the SAT, transcript, erg, and racing experience – but one of the nice things about our sport is that given the huge availability of recruits most college coaches can also choose based on character and presentation through athletes' official visit as well – and as such, parents, this is truly your child's first job interview.
If you're interested in utilizing your 2K score to look at your possible chances in the process, we painstakingly designed an algorithm to allow for change over time and programmatic differences that calculates in academics for specific schools in our college rowing database with our recruiting wizard application.
Finally, we'll address some example 2K scores (you can search specific schools by 2K recruiting thresholds in our college rowing database) with the understanding they are huge generalizations – and a handful of schools in the groups below will be outside these boundaries in both directions. All times are for open weights. The middle 50% for Division III women occurs around 7:40, with the ends sub 7:30 and around 7:55. For Division II and I women, suffices to say the numbers above (sub 7:30 for consideration; sub 7:15 for intense interest) work more or less for the 20 or 30 top performers in the NCAA (see the championship results), however it's important to point out we've seen women in the 7:50's and 7:40's be recruited at Division I institutions based on their background and the rowing program at the school recruiting them. The middle 50% for Division III men occurs around 6:35, with the bottom end being high 6:40's and the top end into the 6:20s, and we have already given the numbers for the top end of men's Division I above. That said, it's again important to say we've seen men recruited for Division I rowing in the 6:30's and the middle 50% for schools outside of the top 20 is probably around 6:30, with the top end again in the twenties and the bottom end in the 6:40 area.
The best advice we have is to focus on loving the rowing and doing the work. The 2K will take care of itself, and regardless of what it is (9 minutes is OK!), there is a college that would love to have you row on their team. The trick isn't pulling the right 2K, it's merely figuring out where the best fit for you is to grow and develop in the sport while benefitting the team and coach who helps you get there.