What is the rowing training volume of elite programs?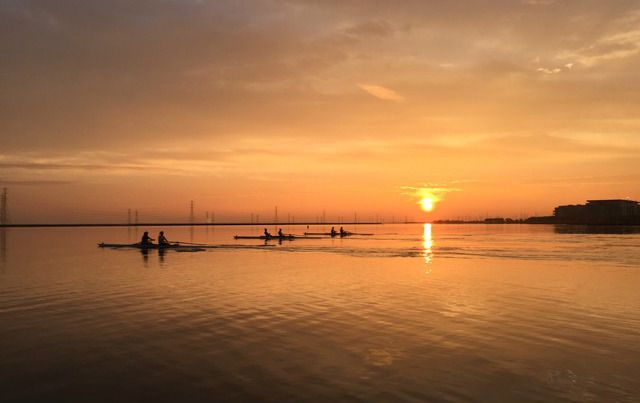 by Nate Rooks
A typical high school team might row 10k to 15k on a good day, even 20k on a long day. As I covered in our article about finding the balance between being a student and athlete, college rowing brings more schoolwork, more free time, more friends, and most importantly, a lot more practice. The sheer volume in collegiate training catches a lot of recruits off guard.
An underclassmen on a Top-10 NCAA team told me, "I knew that it would be a higher time commitment than high school rowing, but coming from a highly competitive club team, I didn't think that each practice would be significantly harder than what I was used to. I got very overwhelmed between training and school at the beginning of my freshman year."
That rower also shared, "The amount of practice and the level of intensity on the team can be really overwhelming, or very empowering, depending on how you look at it, and that view changes day by day."
I'd like to help illuminate exactly how – and why – many of the best teams use volume training to gain an edge.
College training programs are created within a specific set of restrictions to achieve pretty universal goals:
Consistently build fitness throughout the year.
Reach peak speed in the spring.
Win championships.
The restrictions, intended to create parity amongst programs without completely overwhelming the student-athletes, are time related:
The school year limits teams' time together and with the coach to roughly 8 months (plus holiday breaks).
The NCAA In-Season Hourly Practice Limit is 20 hours of required team-related activities per week and no more than four hours per day.
In the off-season (usually the beginning or end of the fall term), coaches must include several consecutive 8-hour weeks.
Hourly limits do not include travel time or set-up/break-down.
Within that framework (and sometimes with creative ways to circumvent the limits, i.e. "voluntary work"), coaches are working to maximize the potential of their athletes and outperform their competitors. As NCAA coaches emulate the success of the US Women's National Team and follow Coach Tom Terhaar's volume-intensive training program, this has led to an arms race of volume training.
"A number of top programs are putting in more miles than ever, investing the bulk of their training time in aerobic conditioning. This type of long slow distance can be daunting for even the most accomplished junior rowers," said a top-level collegiate coach.
It may seem simple, but "volume" has different definitions depending on what coach you're talking to. At the elite level, volume means large chunks of meters (greater than 16 kilometers per practice) or time (greater than 70 minutes) at steady-state pressure and heart rate (~140 – 156 BPM), and doing it for at least 60% of your practices. In total, that means the best trained teams are doing 12-15 hours and upwards of 150 kilometers per week just in steady state.
Some teams will even strive to break the 200k/week benchmark. With an average of 10 practices a week (accounting for one Saturday practice and one weekday afternoon off) that's 20k at every practice.
Here's an example plan for a team trying to hit 180 kilometers in one week:
Monday – AM: 18k competitive erg. PM: 20k steady row
Tuesday – AM: Weights. PM: 24k steady erg in the afternoon
Wednesday – AM: 24k steady row. PM: Rest
Thursday – AM: Weights. PM: 22k steady erg.
Friday – AM: 16k of competitive pieces. PM: 20k erg
Saturday – AM: 20k steady, break, 16k competitive
A few caveats:
Not every team trains this way. I'm citing extreme examples, but this training is becoming more common with each passing year. Championship and podium-level teams are definitely putting in this kind of work.
The above weekly program accounts for access to the water. If you want to go to a school with ice in the winter, just turn all that rowing time into erg time…
This isn't to scare you out of rowing in college! A smart coach will help you adjust as a freshman and work your way up to their ideal level of volume.
That same collegiate coach above says "While erg scores continue to be paramount in the recruiting process, it's becoming increasingly important to recruit self-disciplined athletes who love to train."
Bottom line: Rowing in college is hard! You will be expected to do more and work harder than you ever have before. This amplified commitment multiplies your dividends, and you will have the opportunity to be your fittest, fastest, and most successful self.
This is confirmed by the collegiate rower: "I have loved just being able to put it all out there and see what my body can do. I never have a moment of doubt that my body can finish a piece or accomplish what I want, so it's now all about mental ferocity and putting it all on the line when it matters."
Nate Rooks was a four year letter winner and team captain for the Stanford Men's Rowing Team. He was an assistant coach and recruiting coordinator for the Stanford women for seven years. Nate rowed internationally in the United States U-23 eight at the 2006 and 2007 World Championships in Belgium and Scotland, respectively.